Professional Fire Dancing
Sasha has been stunning audiences since 2006. Sasha is a professionally trained fire eater and fire breather as well as many other fire arts. Shows can range from 10 minutes to an hour or more. She also works with other amazing fire performers for even bigger, longer, and more extravagant shows. Shows can be created to fit any budget! Safety is always first priority, Sasha always has trained safety crew members with her when performing to aid in crowd control, fuel area containment, and to be there "just in case". Fire performing is completely safe given the necessary space requirements. Sasha has a 100% safety rating, has never had an accident and is fully insured as a fire performer. Sasha can perform with fire essentially anywhere, inside or outside, as long as there is at least a 10x10ft area and the ceilings are at least 9ft tall. If fire is not an option, LED light performances are available!
Below is a visual list of the different fire arts and skills that Sasha performs.
Fire Eating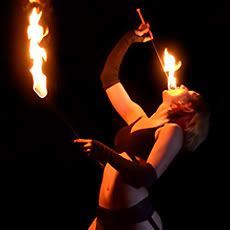 Fire Fleshing
Fire Poi
Fire Fans
Fire Hula Hoop
Fire Hip Belt and Palm Torches
Fire Breathing
Fire Headdress
Fire Collar
Fire Walls
Custom Fire Props
Fire Troupe/Group Performances
Also performs but not shown:


Fire Staff
Fire Fingers
Fire Levitation Wand (Flow Wand)
And much MUCH more to come!